Merry Cocktails Willow
"William"
f. 2017-09-29
HD A
Ögonlyst ua 2019-09-30
Hereditärt OptiGen normal/clear (A)
FN normal
AON normal/clear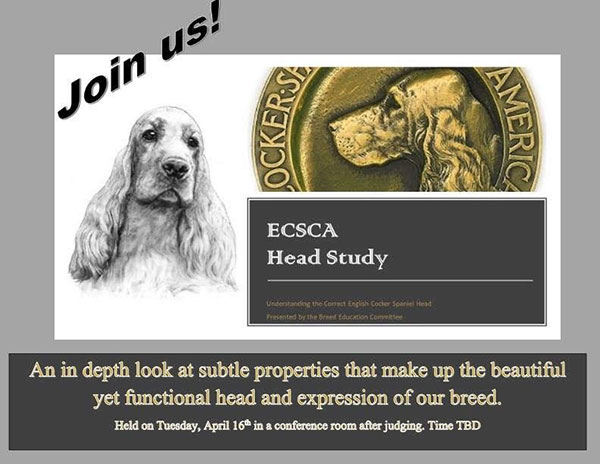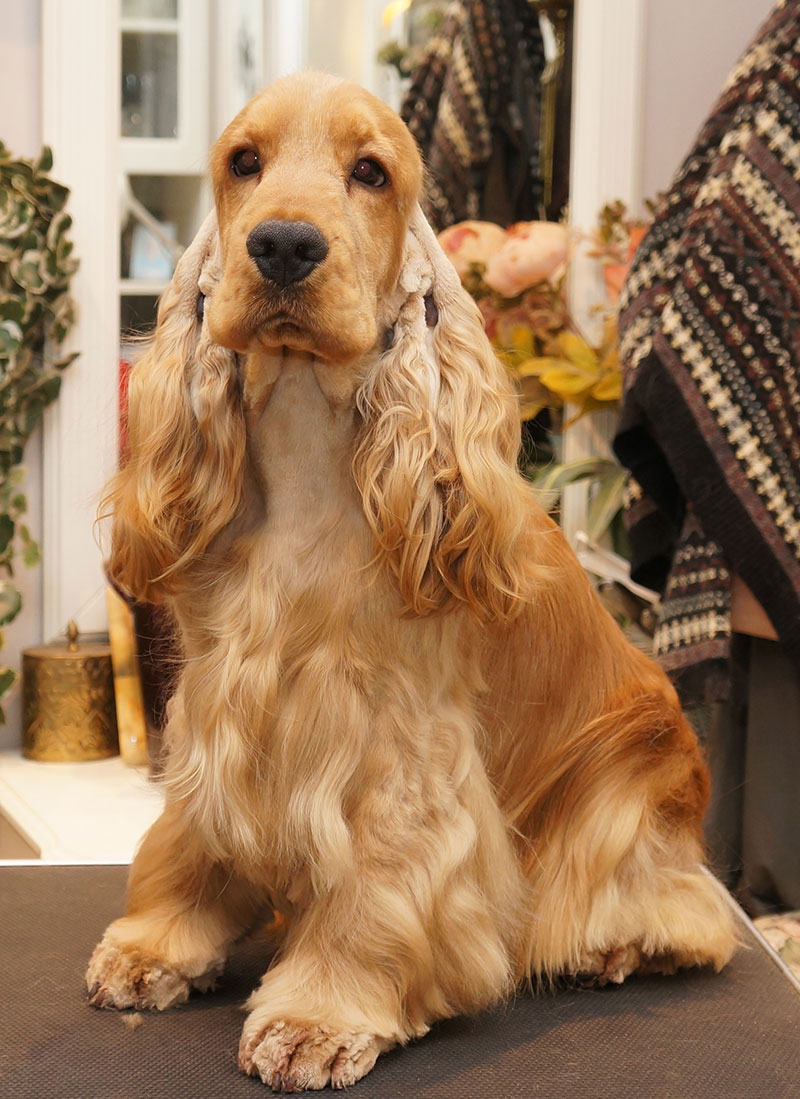 Det finns en grupp på facebook som heter "Pondering the English Cocker Spaniel". Där dök ett välbekant huvud upp! Så lik vår Wille, Merry Cocktails Willow (Rex, Claramand Ricochet & Pippi, MC Joyce) som är 1,5 år och nyligen blivit HD-röntgad med A-höfter. Samma milda uttryck också! Men han kan inte ha varit modell för teckningen, eftersom detta foto är nyligen taget!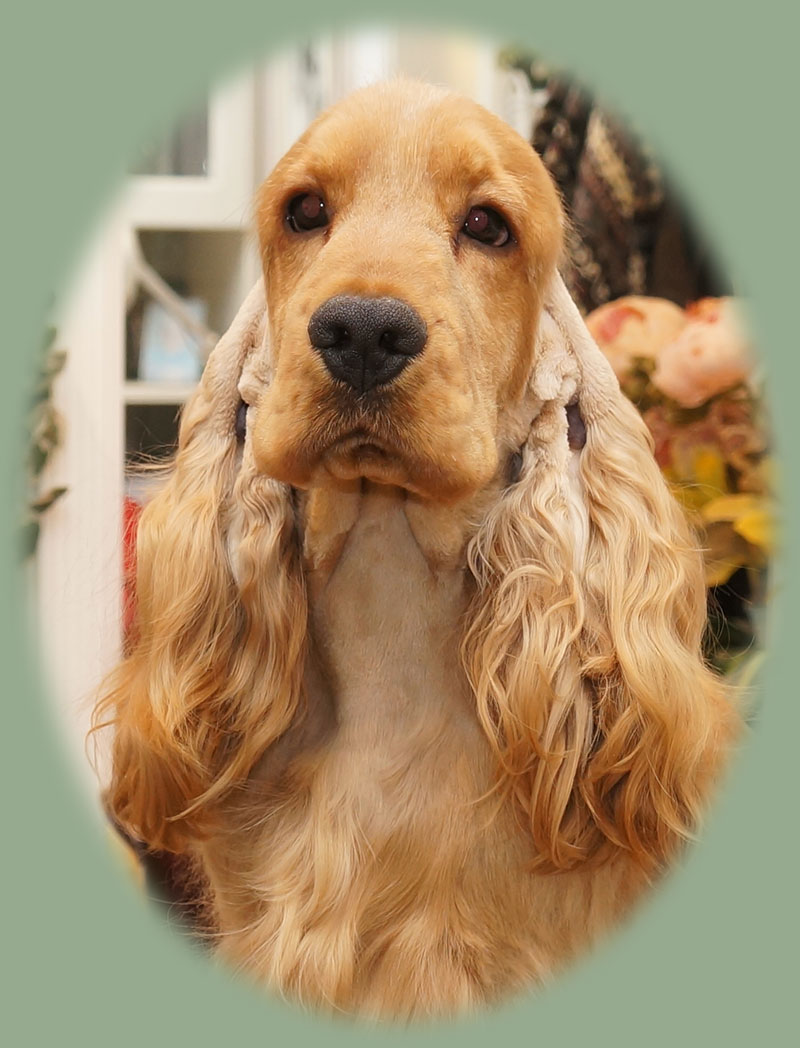 Wille 1,5 år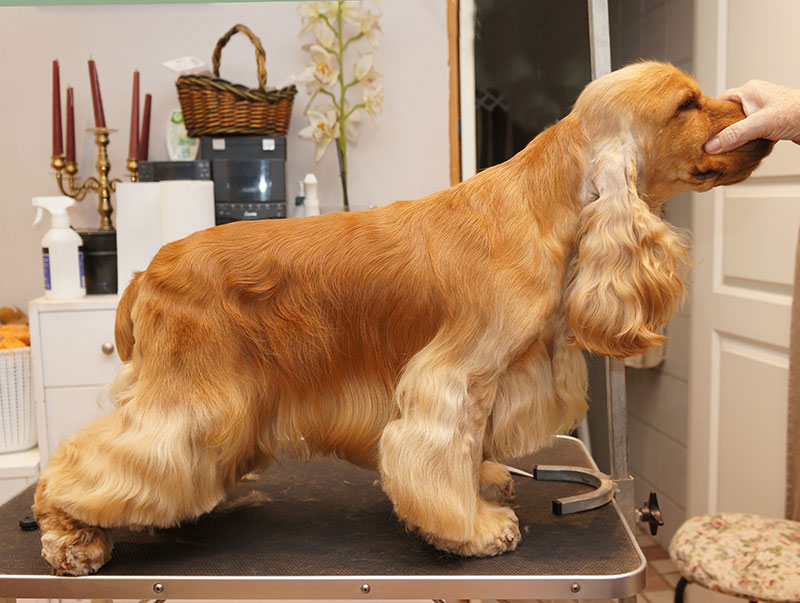 Wille i juli 2019
Om två månader blir han två år
Han är precis lika mjuk och vänlig som han ser ut!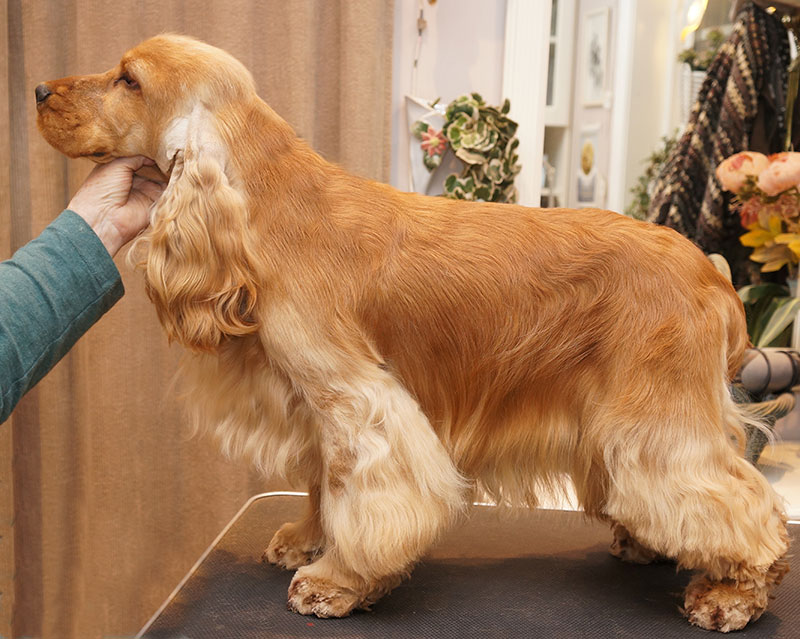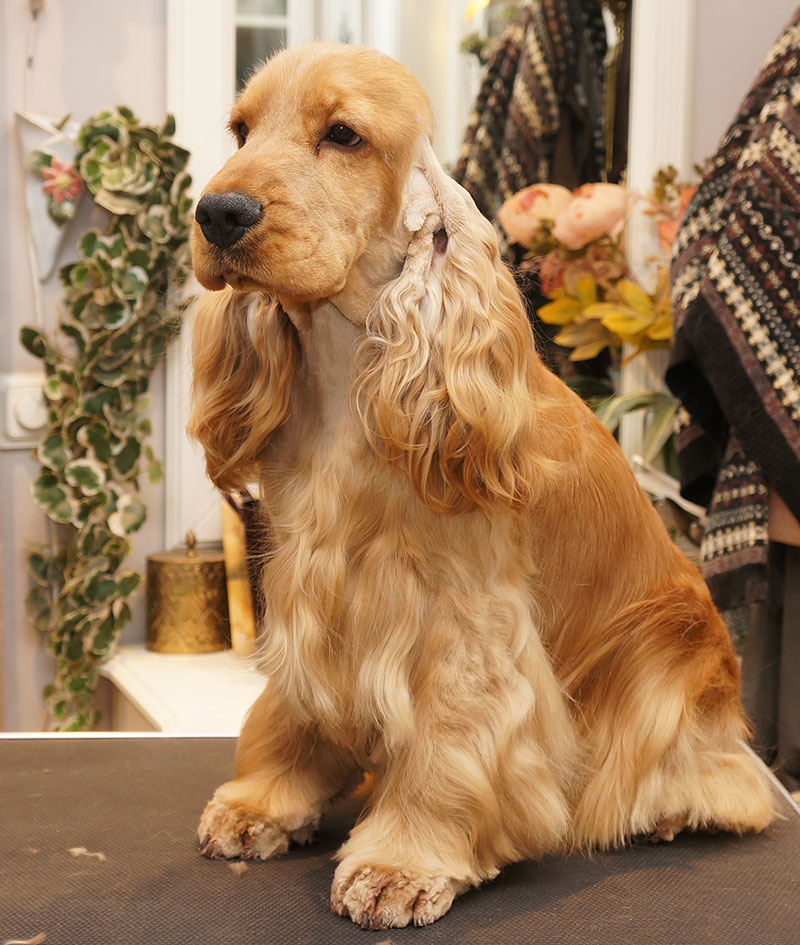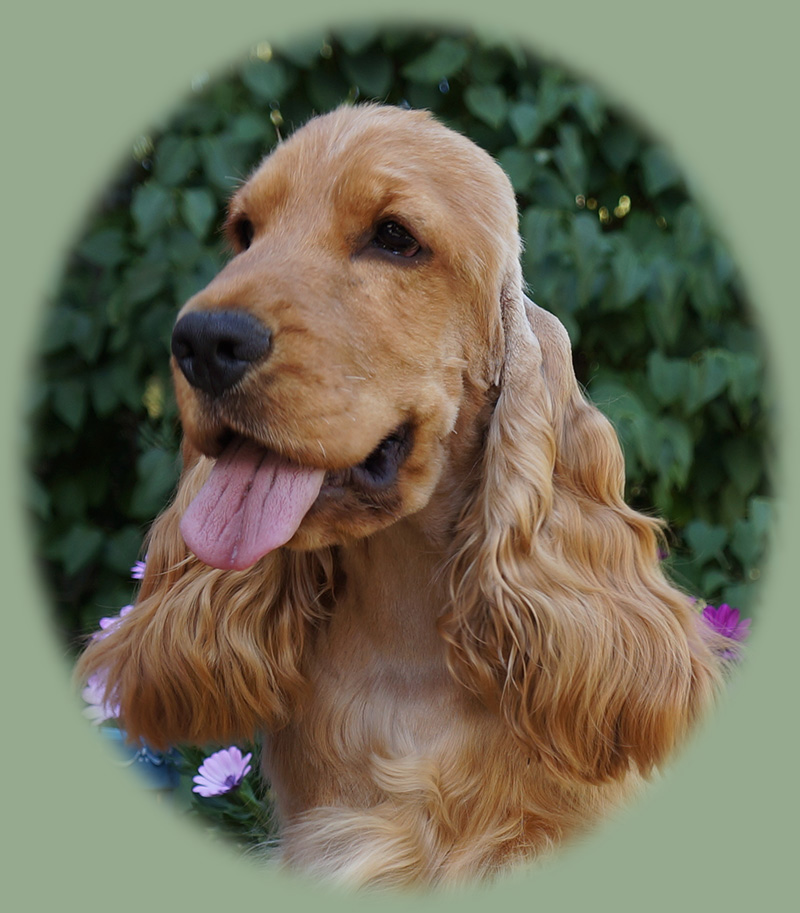 Wille 9 månader - nybliven junior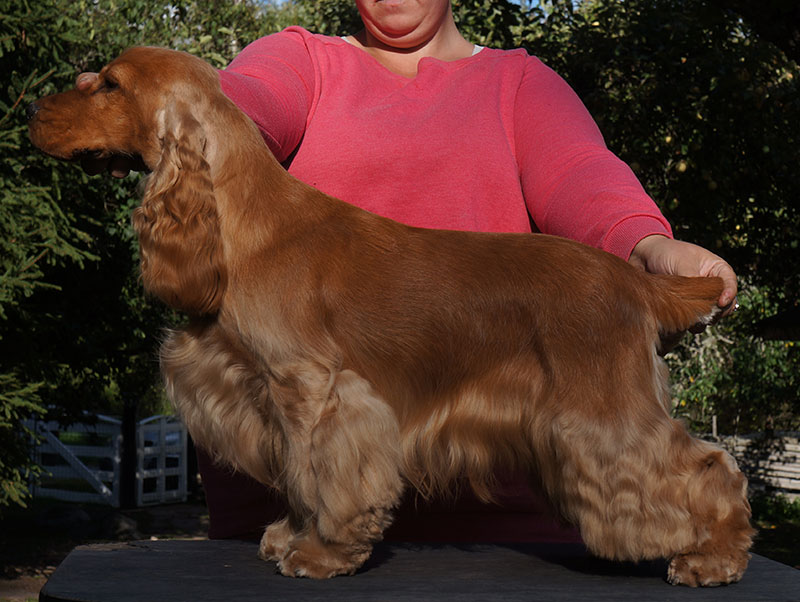 Wille ett par veckor innan 1-årsdagen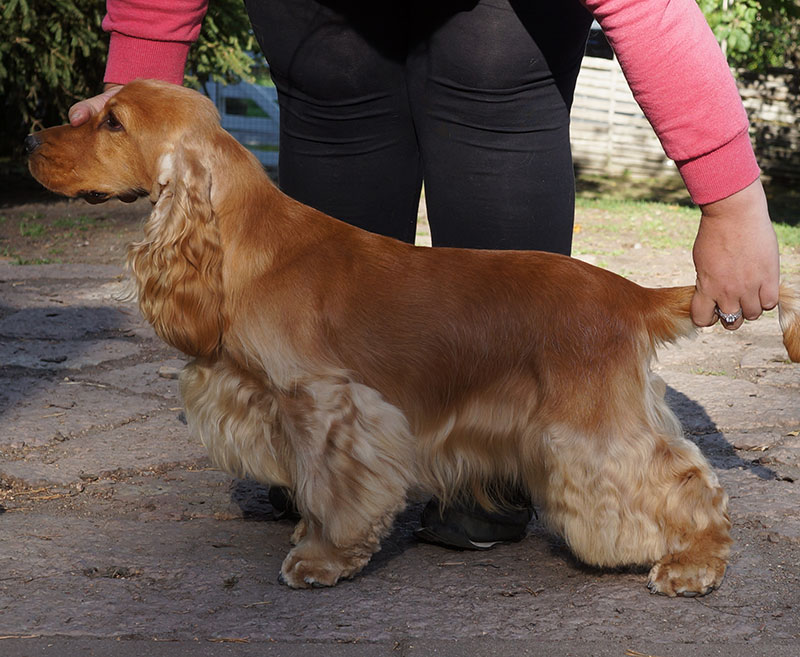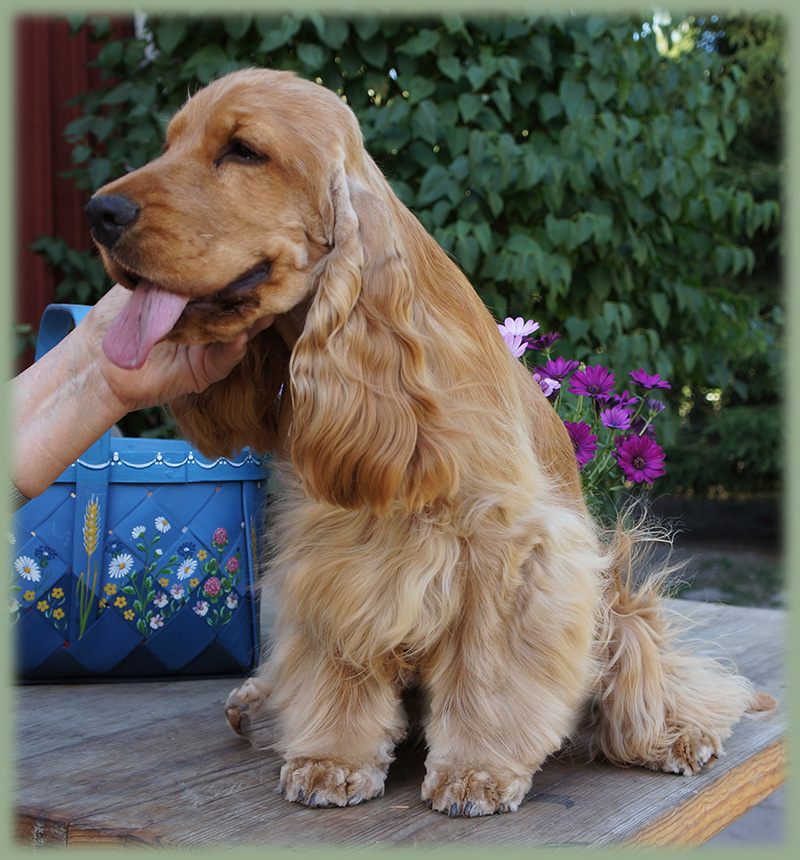 Varmt och flåsigt hela sommaren ända sedan maj.....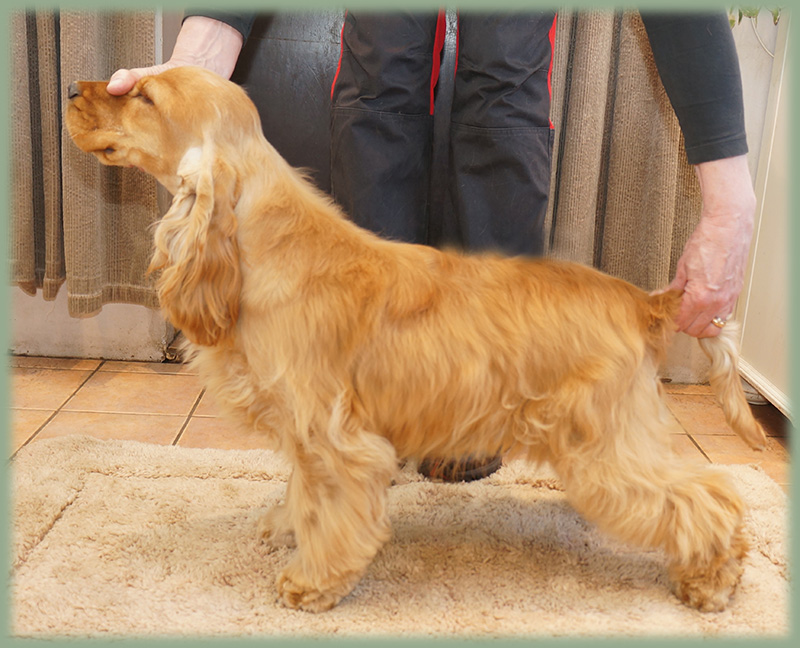 Wille 6 månader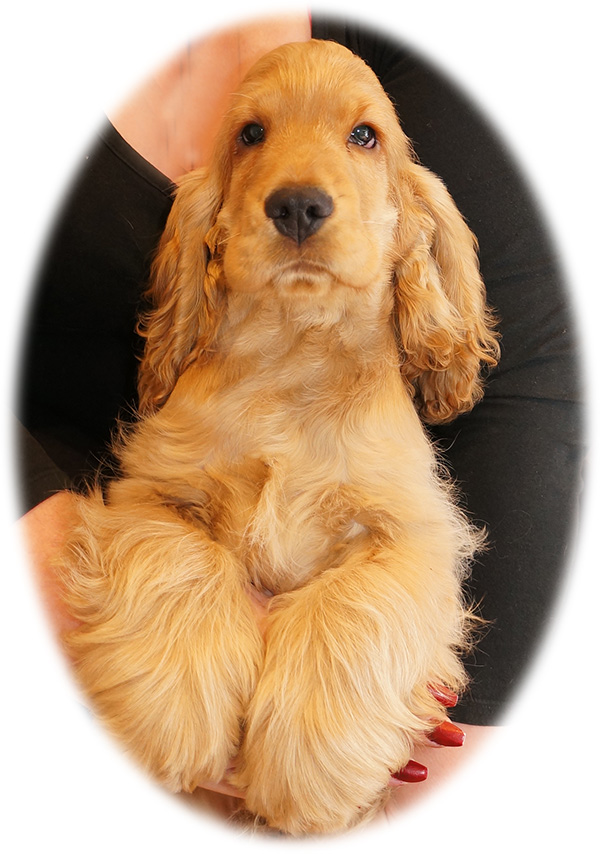 3,5 månad
13 veckor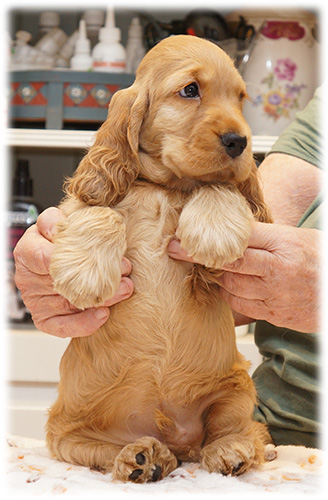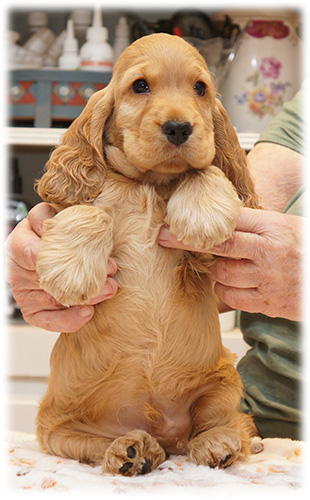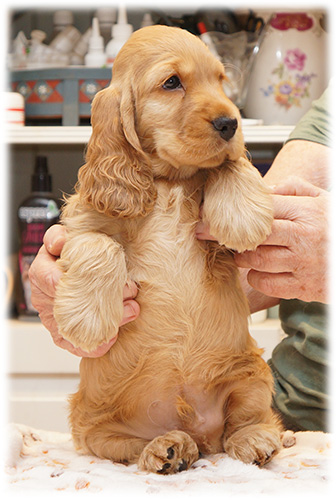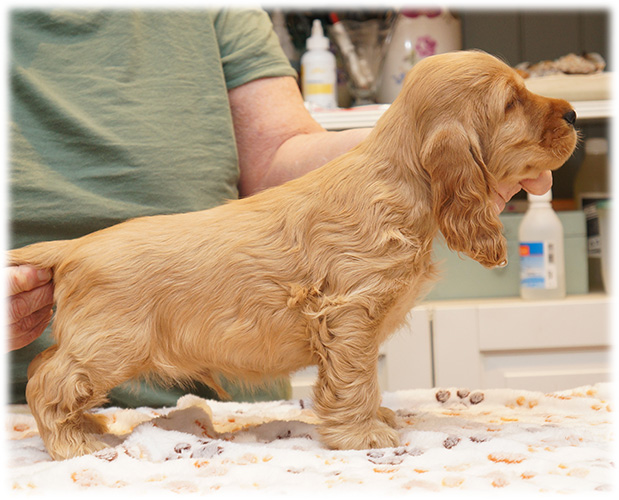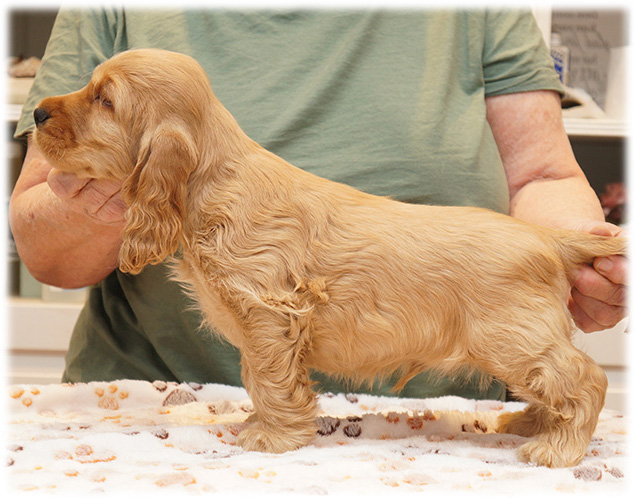 8 veckor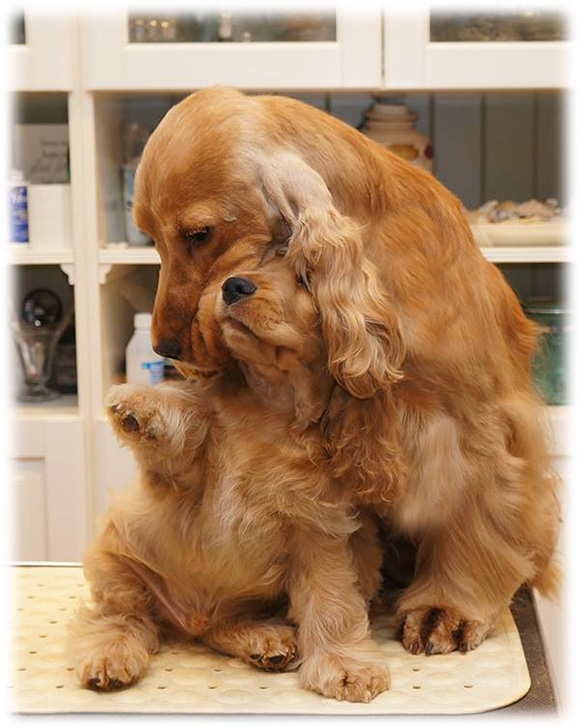 3 månader ung med sin far Rex

"Jag och min far"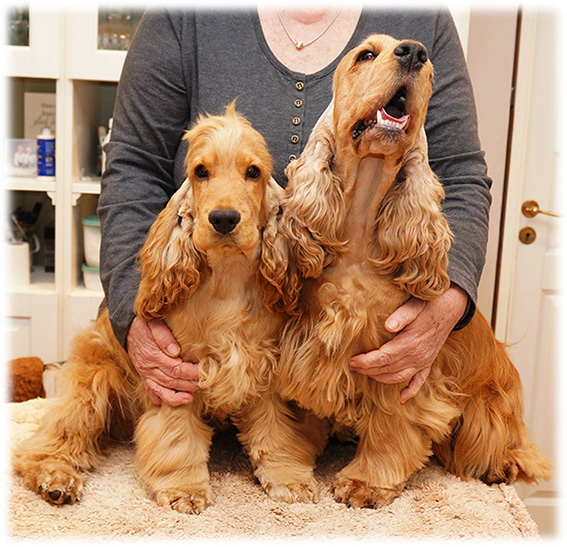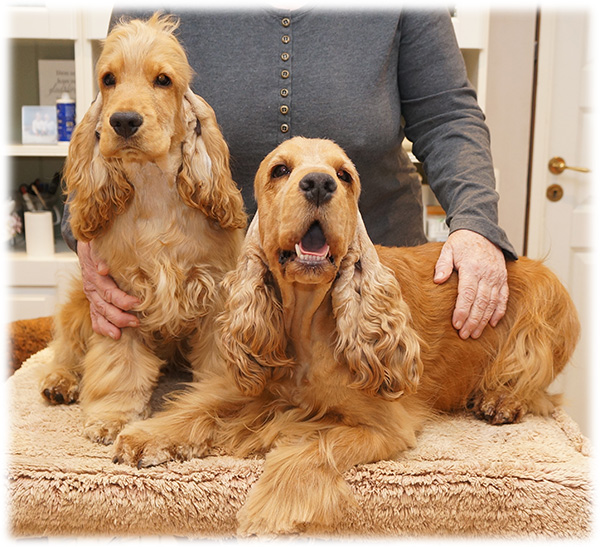 Pappa Rex stolt som en tupp över sin son...
Lille William har blivit ett nummer större! Snart är han 6 månader och har fått en valpputsning!


Mor och far: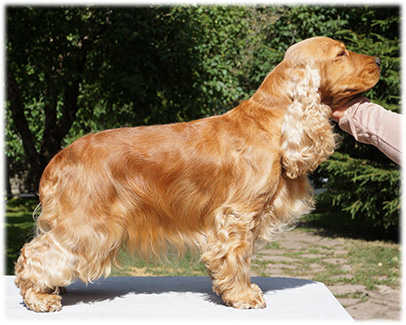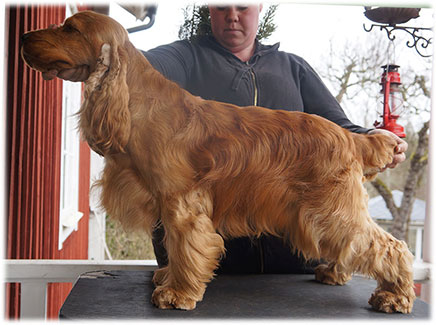 Pippi, Merry Cocktails Joyce & Rex, Claramand Ricochet

Så här ser stamtavlan ut:
SE56164/2017 R
Merry Cocktails Willow
SE12732/2015 R
Claramand Ricochet
KCSB0731CT
Claramand Rough Diamond
KCSB0185CQ S
Claramand Chances Are For Christiol
KCSB3452CN
GB SHCH
Claramand Hells Angel
KCY0539903Y01
Judika Little Mischief
KCAF03107303
Claramand In Gold
KCAF0900286
Paisley's Dream Maker For Claramand
KCSB3200CP
Claramand Looking Good At Fendrove
KCAM00511202 ST
Claramand So La De Da
KCAL0900844 BT
King Of Clowns Vom Odenwald For Cla
METCSP2801/04 BT
HU CH
Athina's Product Sweet Dream Choice
VDHSP239/C07
DE&VDH CH
Ysatis Vom Odenwald
KCAH03586102 S
Claramand Cha-Cha-Cha
KCSB3401CR S
Claramand Serious Black
KCAF01752303 S
Claramand Oo-La-La
SE29114/2015 R
Merry Cocktails Joyce
S42459/2008 R
Merry Cocktails Unity
S31135/2008 R
SE U(U)CH
Fonesse Finlorian
KCSB1026CN
Beligar Special Effects At Rayol
KCAB03506606
Fonesse Frasera
S41714/2006 R
Merry Cocktails Kind Regard
S11326/2004 R
Murbräckans Monte Carlo
S43619/2003 R
Merry Cocktails All Round
SE18030/2011 R
Merry Cocktails Tambora
S18669/2009 R
Winline's Quickstep
S41275/2004 R
C.I.E. NO UCH SE U(U)CH
Paisley's Dreammaker
S62379/2006 S
Winline's Covergirl
S16117/2008 S
Merry Cocktails Rejoice
S58237/2005 S
Murbräckans Paparazzi
S23519/2002 BLR
A One's Lilly Of The Valley

2018-10-13
Jälla, Upplandscocker, inoff
Domare Birgitta Svarstad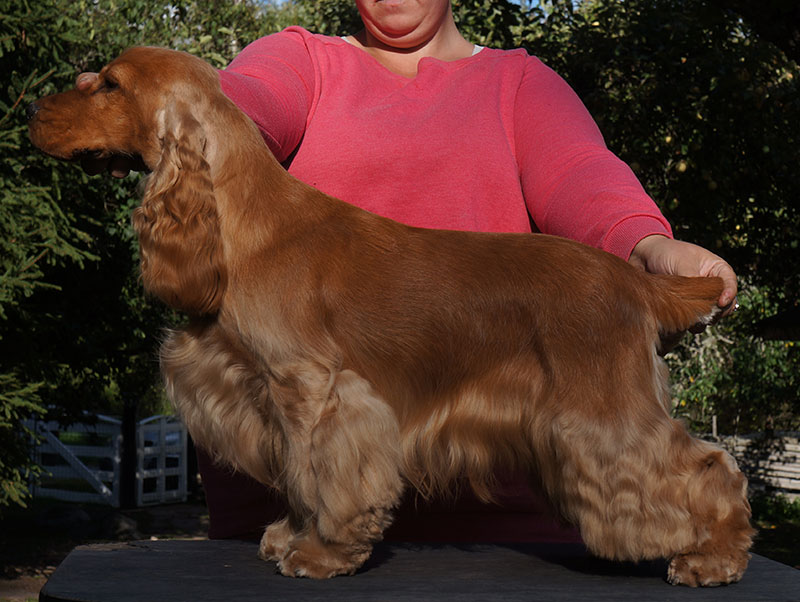 Wille, Merry Cocktails Willow 2a Bästa hane, endast slagen av en championhane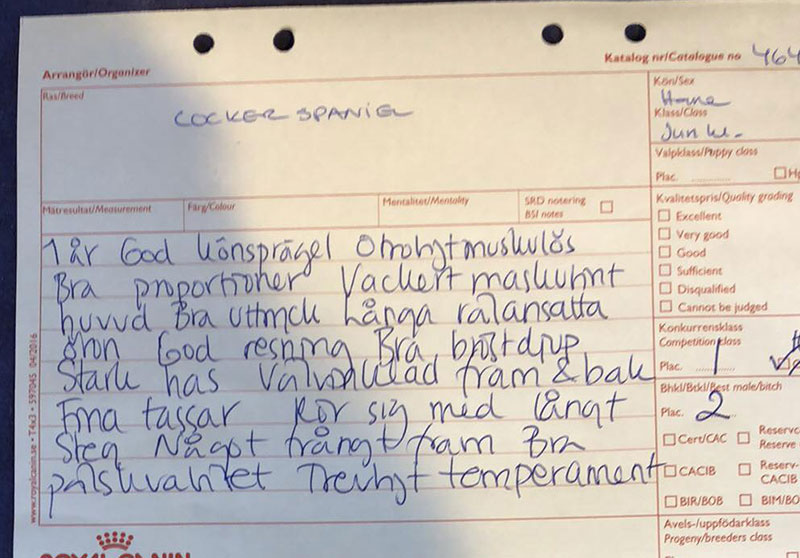 Anna: "Den årliga inoff utställningen i Jälla som Cocker Spaniel klubben Uppland anordnar. Cliff Merry Cocktails Cromford blev 3BH för domare Birgitta Svarstad . Stort Tack till Eva Annerklev för hjälpen i bästa hane. Hade också med mig Wille Merry Cocktails Willow från min uppfödare som blev 2 BH. Fantastisk dag med massor av hundälskande vänner!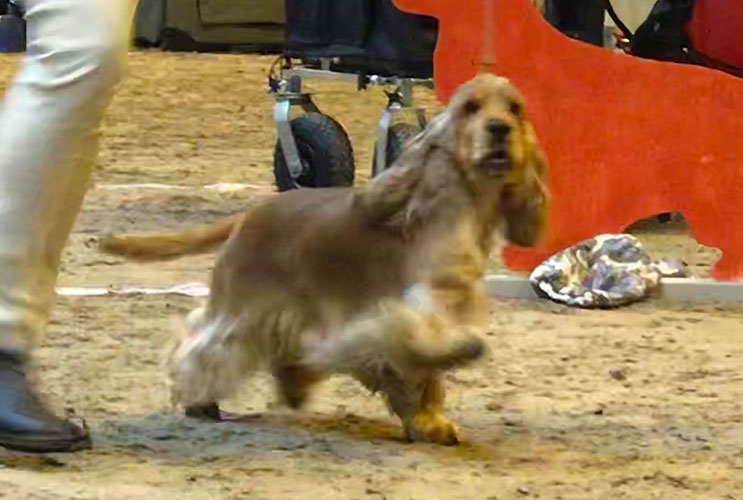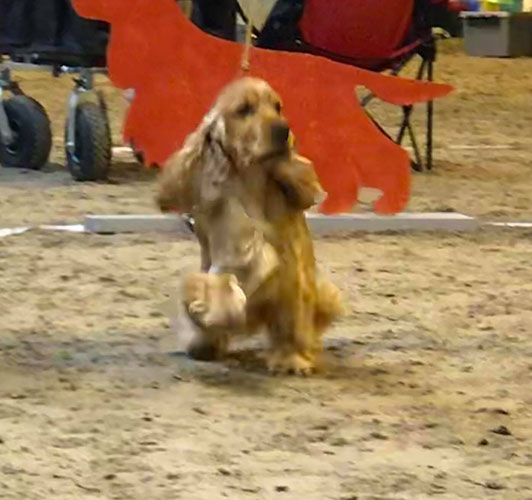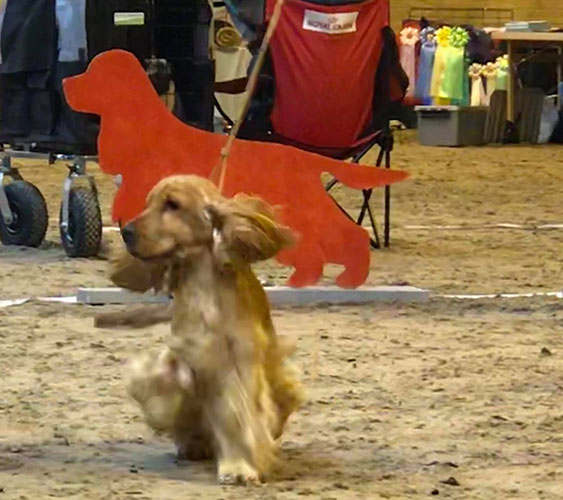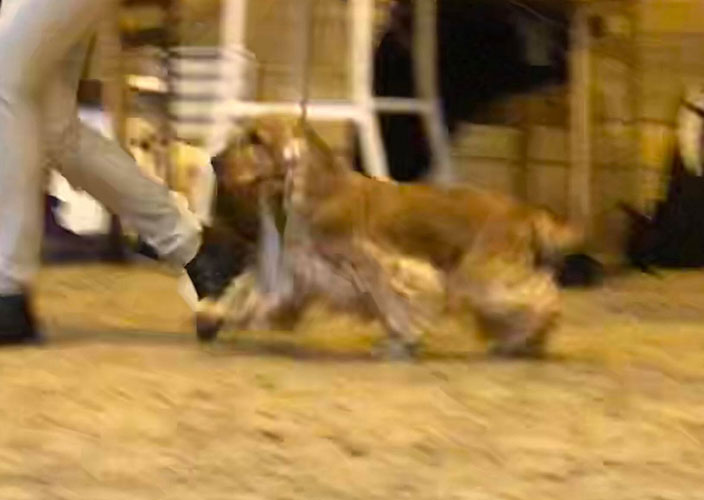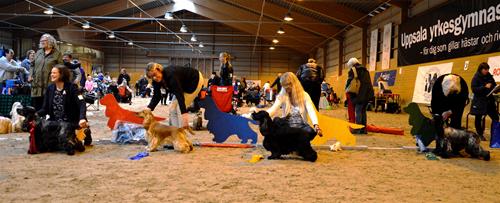 2018-05-20
Cockerklubben Uppland, domare Roxana Opris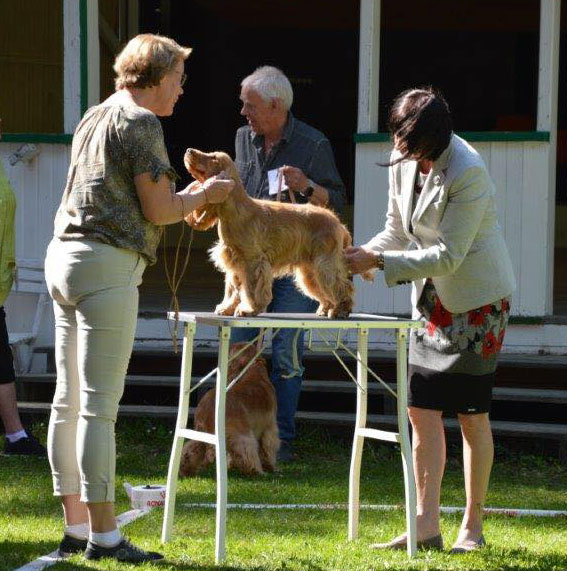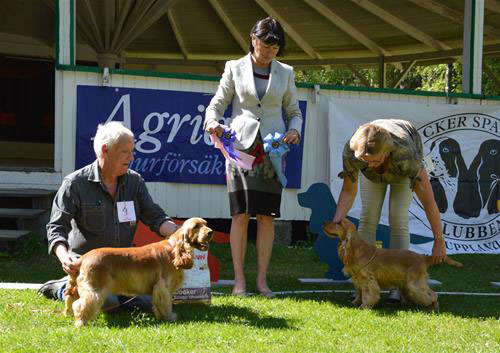 1 Hp Paisley's Handsome Brad Äg: Ann-Christin & Lasse Nyman

2018-04-14
CM Utställning Upplands Cockerklubb, domare Ola, Eriksson, kennel Geltman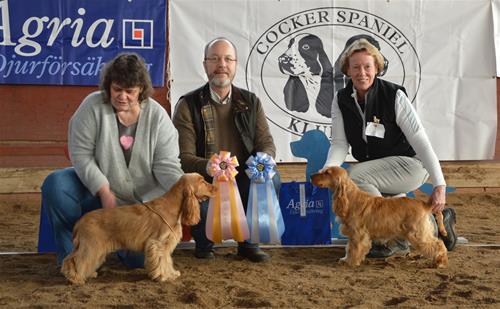 "Wille" Merry Cocktails Willow
BIM-valp på sin första utställning i valpklass
BIR- valp är Pansy´s Progidy äg: Ann Hallgren
I lördags var det den årliga CM i utställning avd Cocker Spanielklubben Uppland och årets hemliga domare var Ola Eriksson,Kennel Geltman's. Jag fick förtroendet att ställa lilla Merry Cocktails Willow som blev 1-HP BIM och Silver Valp. Mina killar Merry Cocktails Footprint ( Faxe ) 3-HP öppenklass och Merry Cocktails Cromford ( Cliff ) 2-HP och 4- Bästa Hane . Vi var också med i Uppfödargrupp där vi fick ett 3-Pris med fin kritik trots att vi hade en liten ung buspojke med ! Tack Gittan Mikaelsson , Stina Yron Lund , Annika Varbäck för all hjälp till att det blev en helt fantastisk dag på alla sätt och vis !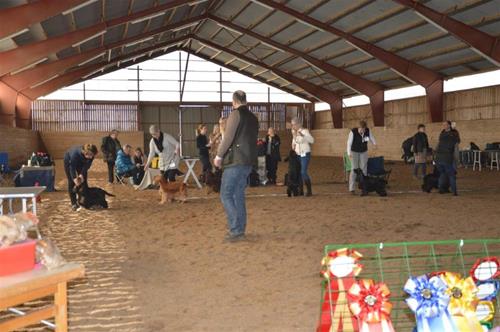 Tack fina duktiga Anna!