West Side Story's Uptown Girl
"Ulla"
f. 2009-08-27
HD A
Ögon ua (2014-09-04)
OptiGen normal/clear (A)
FN normal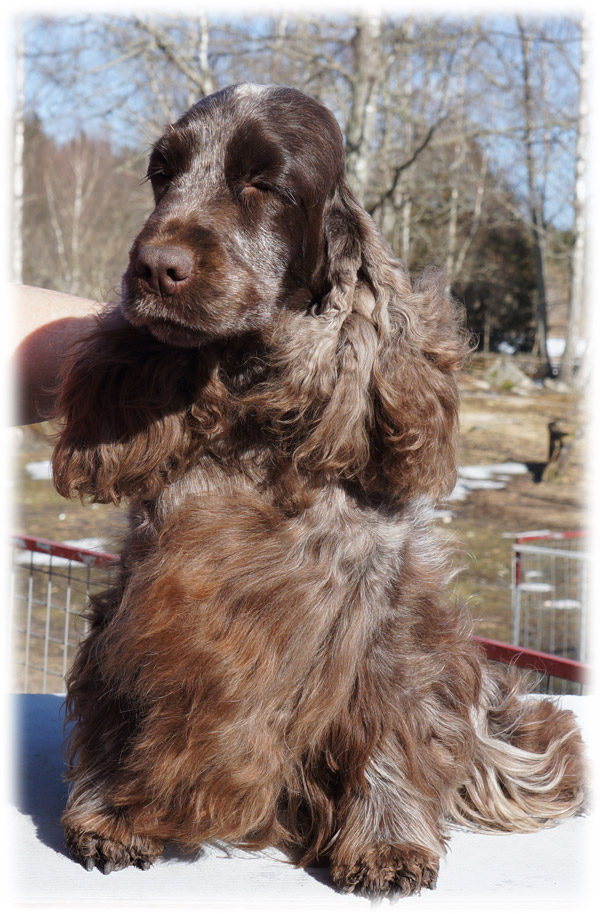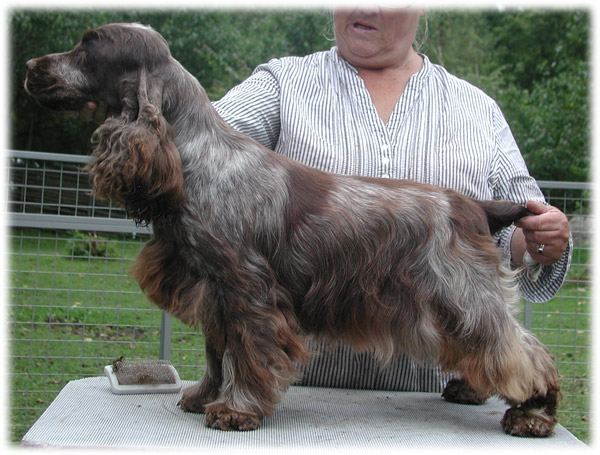 Ulla 3 år - 4 månader efter sin första valpkull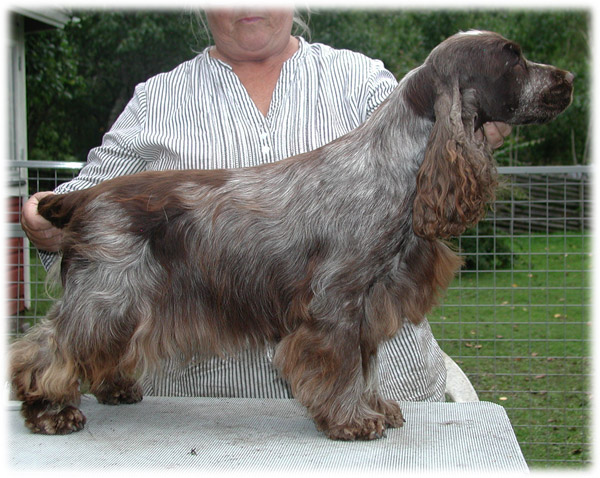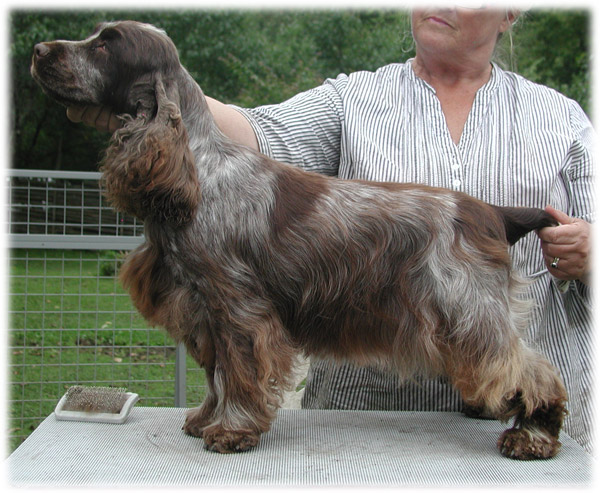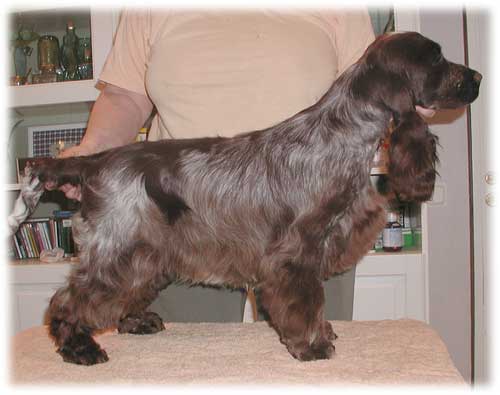 Ulla 7 månader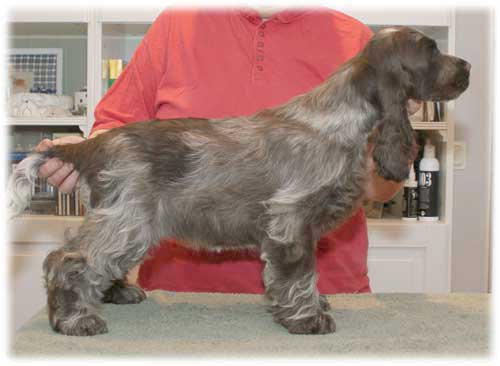 Ulla 4 månader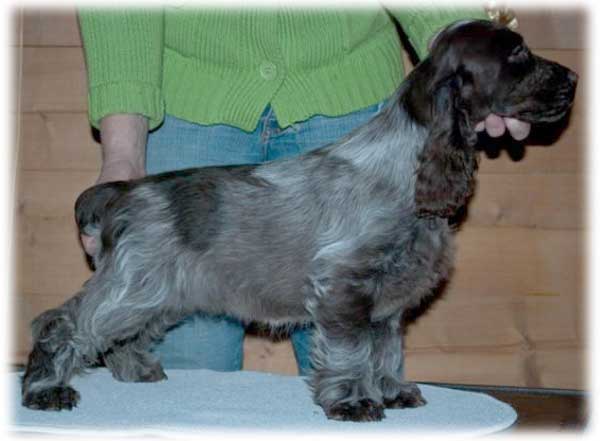 Ulla 14 veckor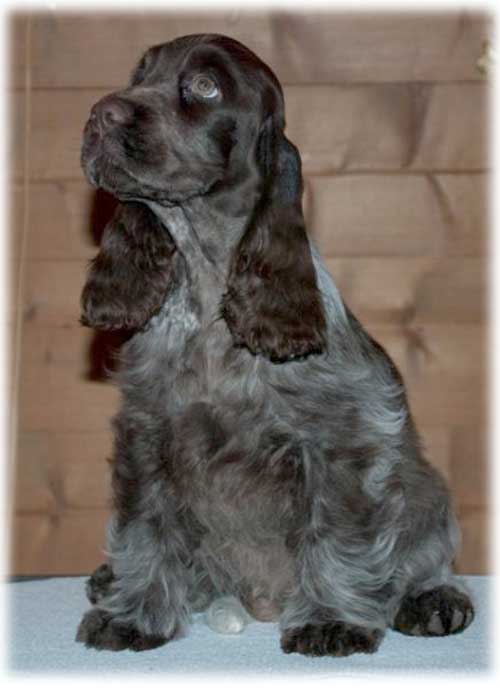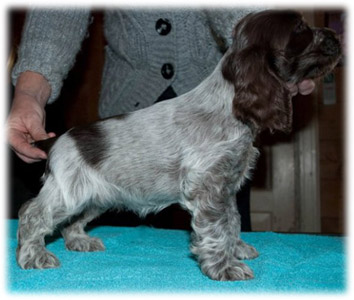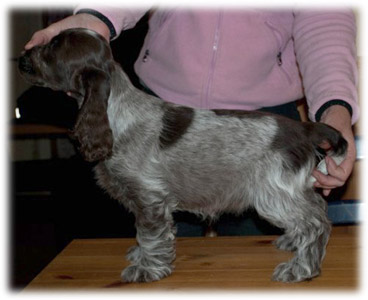 Ulla 7 resp 12 veckor
"Ulla min Ulla" ......Den här chokladpralinen kan man bara inte motstå! Ulla kallades hon hemma på kenneln i Norge och för oss har hon hela tiden varit en "Ulla" , så det får bli hennes namn här också!
Tack Tove att du gav oss chansen att få henne!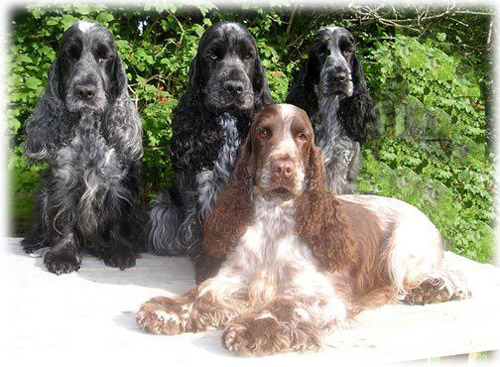 Till vänster är det Ullas farmor Artmaster's Clever Girl, i mitten Häljans Xellent Copy to Artmasters, Ullas farfar "Oliver" Artmaster's Hole In One Jr ligger och till höger Olivers syster Artmaster's Here Comes Lucia.


Far och mor: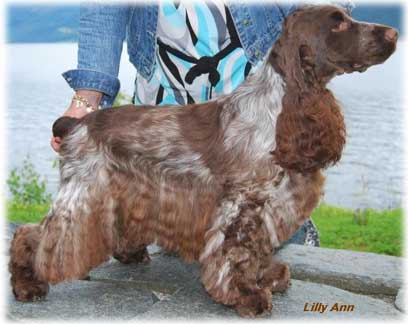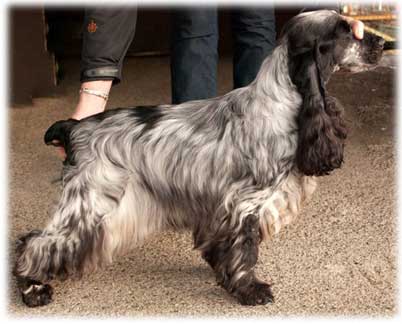 "Martin" Boltons Mocha Martini & "Sara" West Side Story's Nicole Richie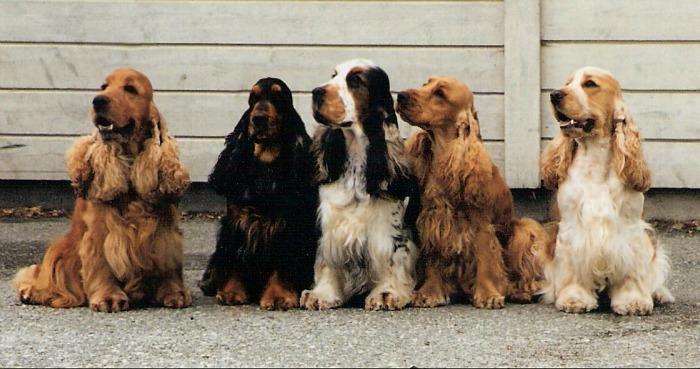 Bild från 1996 där några av Ullas släktingar finns med:
* Norw.Sh.Ch (Twin Peak's) Hey Look Me Over "Lobo"
* Twin Peak's Just For Fun "Tanja"
* Norw.Sh.Ch Twin Peak's Kubla Khan "Kaspar"
* Twin Peak's Look At Me "Sasha"
* Norw.Sh.Ch Twin Peak's Kenny Rogers "Felix"

Så här ser stamtavlan ut:
West Side Story's Nicole Richie

BLR

Love Cox`s My Choice

VSR

S U(U)H
Westerner Still Of The Night

BLR

Lynwater Look Me Up BLR

Westerner Rose For Lady Blue BLR

Love Cox´s Allways Love Me VS

Cockado´s Major Tom BRR

Westerner Who Loves Me BLR

West Side Story's Cointreau

BLR

NUCH NORDV-98
Carillo Cool Lad

BLR

N S UCH
Catchin's Somebody's Darling ORR

NUCH
Carillo Crissy Dissy

BLR

Twin Peak´s O´Grandma

BLR

NUCH
Twin Peak's Kubla Khan BRR

Hoya Bella Blomman´s Twin Peak´s S

2014-04-06 SSRK Kungsbacka
Domare: Catherine Mason (GB), 21 hanar & Paul Carpenter (GB), 30 tikar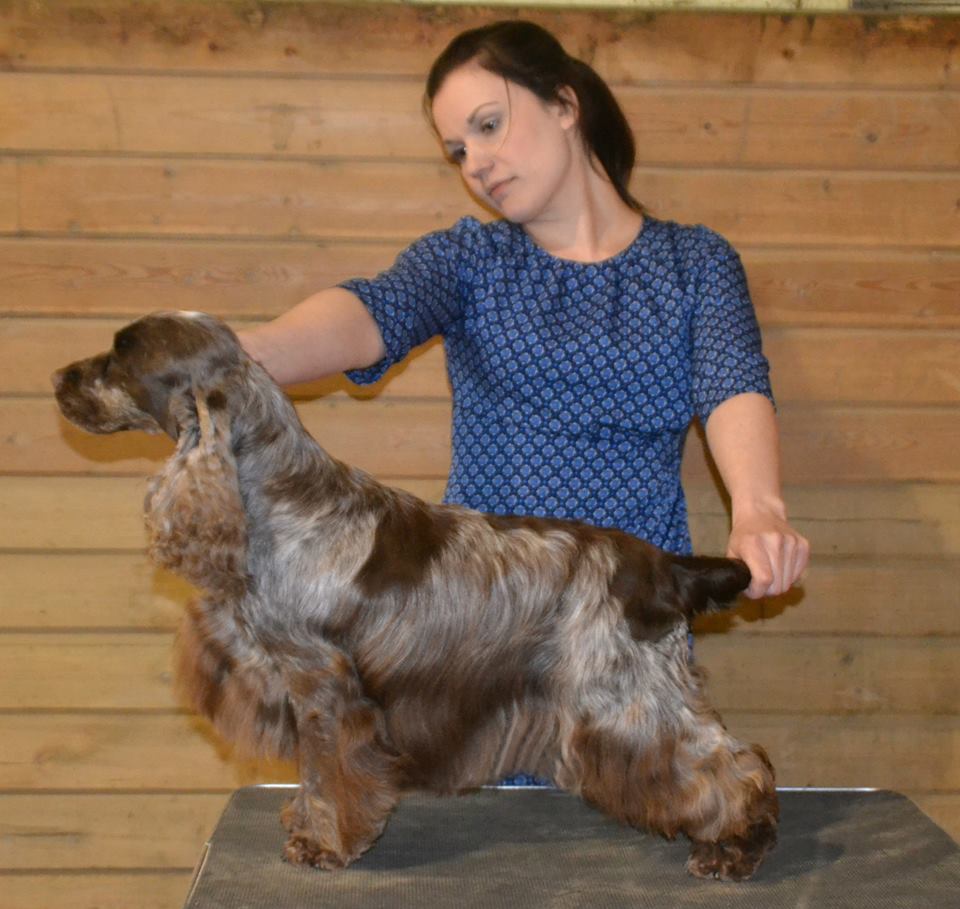 "Ulla" West Side Story's Uptown Girl 1a ökl, CK,, R-cert och 3a Bästa Tik!!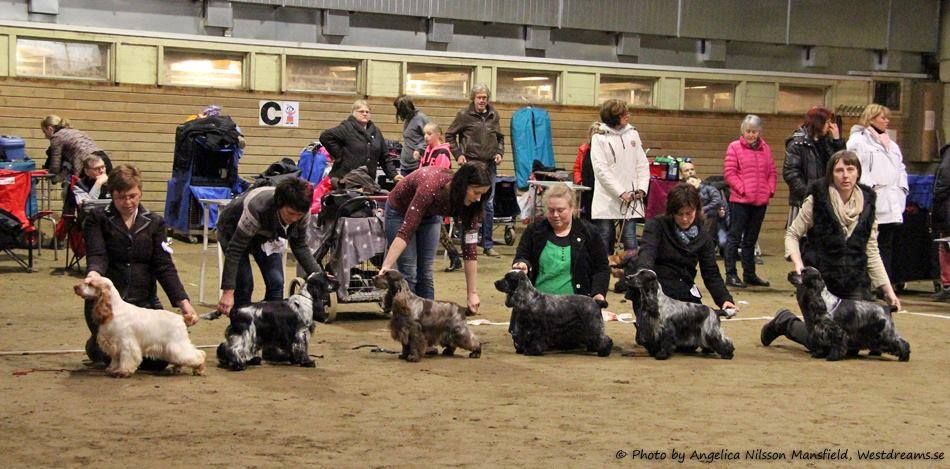 Bästa Hane
1. BIR Ch Ricemountain's High Wide And Handso (blr) äg: Marie Hallberg
2. Ch Craigdean Ollison (blr) äg: Marie Johansson
3. CERT Allert's Grace Land (blr) äg: Anette & Ingvar Blixt
4. R-CERT Westridge Magic Celebration (blr) äg: Marthe Bleka (NO)
Bästa Tik
1. BIM CERT Allert's Kassandra (orr) äg: Theres Johansson
2. Ch Wavecatcher Summertime Bluepearl (blr) äg: Anne Gunnarsson
3. R-CERT West Side Story's Uptown Girl (lr) äg: Maria Lindell
4. Wavecather Magic Euphoria (blr) äg: Anne Gunnarsson
BIR Valp I BIS-3: Backhills Full Of Joy (blr) äg: Anette Westher
BIR Valp II BIS-3: Wavecatcher Miss Victoria Secret (blr) äg: Anne Gunnarsson
BIR Jakt:
BIR Veteran: Ch Backhills New Design (sv) äg: Karin Staaf
BIR Uppfödargrupp:
BIR Avelsgrupp:

27 februari 2011
Cocker Of Cockers, domare April Murray, UK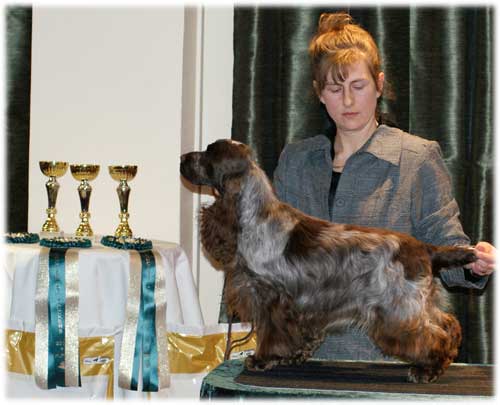 "Ulla" West Side Story's Uptown Girl second best puppy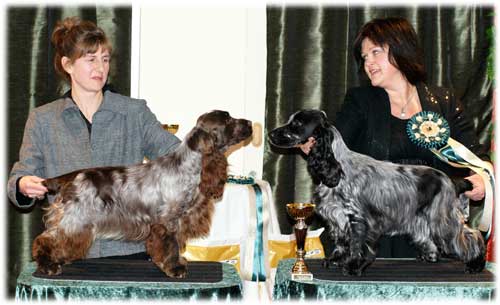 "Vera" Wavecatcher Summertime Bluepearl first best puppy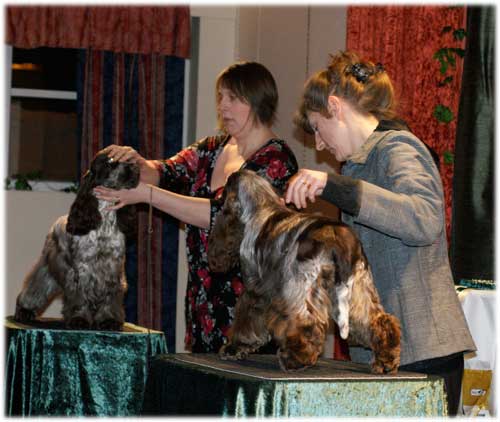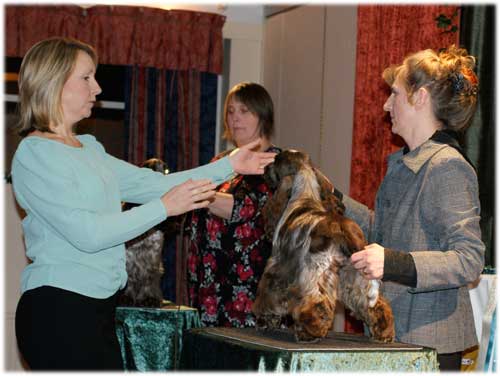 Tack Marie och Per för handling och bilder!

23 januari 2011
SSRK Strömsholm, domare Tord Lundborg
"Ulla" West Side Storys Uptown Girl - Excellent - 3:e placering i Unghundsklass
Som vanligt väl omhändertagna och visade av den gulliga Marie!

18 december 2010
Stockholms Hundmässa, SKK int, Älvsjö
Domare: Theres Johansson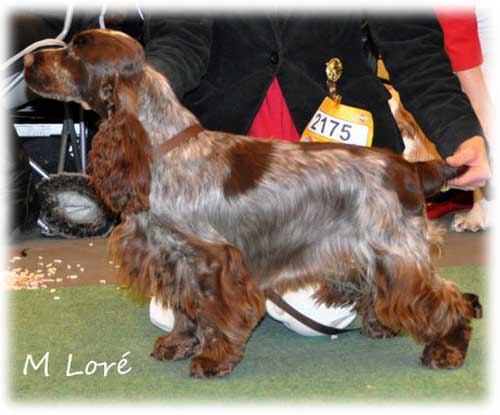 Cocker Spanielklubben, Club Show
Köping 18 sept 2010
Domare valpar och hanar: Jane Simmonds, kennel Shenmore (GB)
Domare tikar och BIS: Linda Crowley, kennel Ashalon (GB)
(91 vuxna + 21 valpar)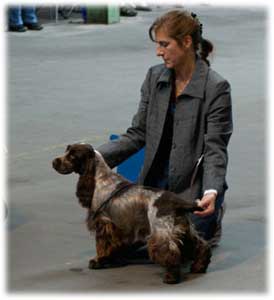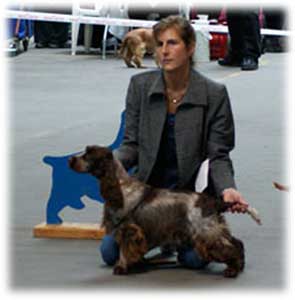 "Ulla" West Side Story's Uptown Girl fick denna dag en 2:a

De senaste två helgerna har vi haft hundar med på tre utställningar och på alla tre har någon av våra hundar placerat sig i Bästa Tik eller Bästa Hane....
30 maj: Uppsala Cockerklubb, Vendel, domare Anett Korpi
Vi tackar Stina Yron Lund för bilderna!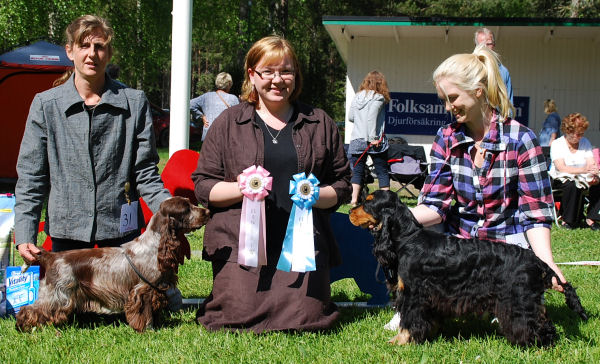 Ulla, West Side Story's Uptown Girl 4 BT och BIS-junior

15 maj -10:
SSRK Skokloster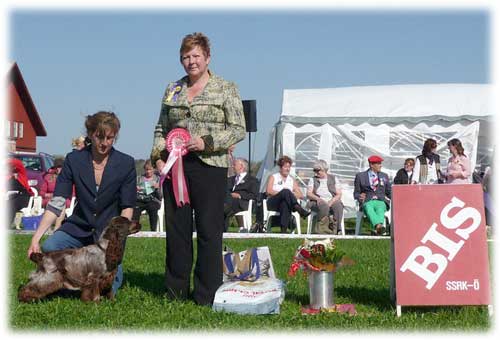 Ulla (West Side Story's Uptown Girl) BIS-valp II för domaren Mrs Jane Graham!!!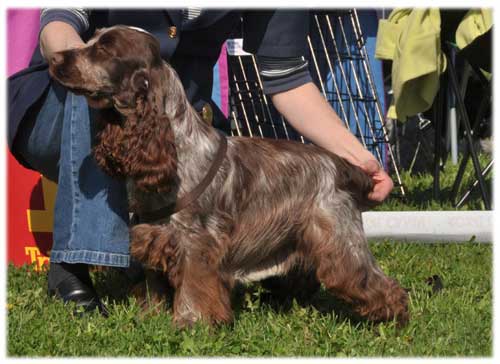 Ulla BIR-valp II med Hp för domaren Mark Boswell:
"Very pretty choklad roan. Feminin head. Super overline. Good neck and shoulder. Short. Plenty of coat. Move happily."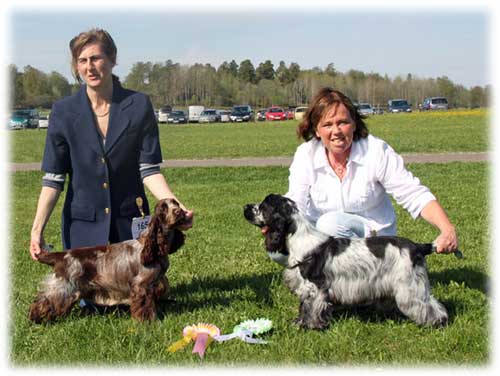 Ulla BIR-valp och BIM-valp A'Ones Giv'em The Bird, äg Marita Hydling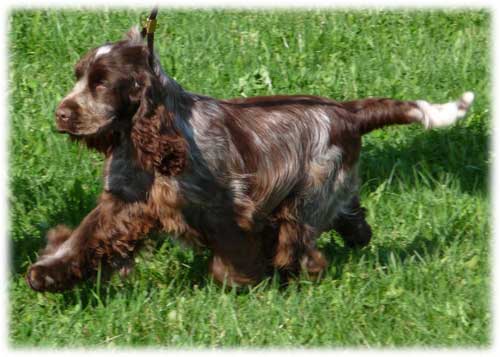 Tack för foton från vänliga medtävlare Marita Hydling och Marie Loré!

3 april -10:
SKK int Stockholm, domare Börje Johansson
Ulla på sin första utställning "Lilla Stockholm" när hon är 7 månader och blev BIR-valp Hp!!
"Tilltalande helhet. Vackert väl mejslat huvud med ett vänligt uttryck. Utmärkt hals, skuldra och front. Kompakt kropp. Härligt bakställ. Välvd bröstkorg med utmärkt djup. Rör sig med ett positivt steg på ett glatt sätt. Använder sina ben väl. Härligt temperament. Grattis!"